Quit Smoking Methods
It's the nicotine found in cigarettes that makes it so difficult to quit smoking. Hence, if you want to say goodbye to the habit once and for all, you would have to find a way to treat nicotine addiction. As part of quit smoking methods, you could try nicotine replacement therapy. Lozenges, Inhalers, Gum, Patches and Nasal spray are the 5 forms of this therapy that have been approved by the US Food and Drug Administration (FDA). Therefore, you should have no doubt regarding the authenticity of these quit smoking methods.
- Nicotine Lozenges
These can be purchased from a nearby drug store without requiring any prescription. It can be found in tow concentration levels - 4 mg and 2 mg. The choice of dosage is based upon the smoker as to when he/she has their first smoke after waking up. There are certain side effects of nicotine lozenges, which could include coughing, heart burns, nausea and trouble sleeping.
- Nicotine Inhalers
These inhalers can only be bought with a prescription. When you smoke a cigarette, the nicotine is inhaled to your lungs. However, in case of nicotine inhalers, when you take a puff from them, the nicotine only reaches your mouth. It resembles closely to smoking and this therefore one of the quit smoking methods most preferred by smokers themselves.
- Nicotine Nasal Spray
This is another of the quit smoking methods that helps you deal better with the withdrawal symptoms and also exercise more control over the nicotine cravings. It is quickly absorbed into the bloodstream through the nose of an individual as the name implies. Nicotine Nasal Spray can only be purchased with a doctor's prescription.
- Nicotine Gum
It can be bought without a prescription in one of the 4 mg or 2 mg doses. It's one of the fastest methods if nicotine replacement therapy where the gum is first chewed and then held inside an individual's mouth for some time. The choice of dosage depends upon how many cigarettes you've been smoking earlier.
- Nicotine Patch
As part of this method, nicotine intake is made possible through skin. The patches can be bought from your local drug store and are applied for varying lengths of time duration. According to the FDA's approval, use of Nicotine patch is recommended for 3-5 months. It does cause side effects such as skin irritation, nausea and racing heartbeat etc.
Apart from this nicotine replacement therapy, smokers are also provided with an option to use prescription drugs. These medicines have been especially manufactured to help deal with symptoms of withdrawal. Some of the drugs have been approved by the FDA while others aren't and are referred to as off-label drugs. Professional guidance is extremely important when adopting any of the quit smoking methods. The aforementioned nicotine replacement therapy and prescription drugs need to be taken under the supervision of a doctor. This will not only keep you safer but also help improve the overall effectiveness of quit smoking methods.
Quit Smoking Today With The Popular Quit Smoking Magic Program (Risk Free - 60 Days)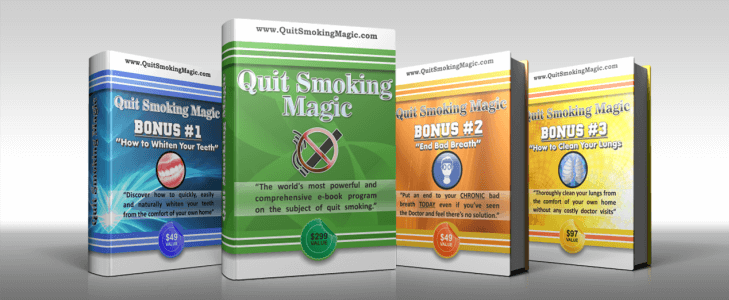 Copyright © QuitSmokingMagic.com. All Rights Reserved.