Quit Smoking Reviews
Testimonials:
Paul Rossman

Big thanks to this book for helping me finally quit this evil habit. I've been trying to quit for quite a while now, after 20 years of smoking. It got to a point where it started affecting my health severely, so I started looking for ways to help me quit. I really wish to show my appreciation for this wonderful ebook as it was very eye-opening and help me start. That was all I needed, a little push and to show me the way. I doing pretty well now, and I can honestly say that every day is getting a bit easier. Give this book a shot, everyone, and I hope it helps you as it did to me. Good luck!

Shannon Rouse

I'm so glad I found this ebook. I have been a chronic smoker for over 8 years and my husband also for 10 years, since high school. We saw the damage it was doing to us but generally, we weren't that concerned. After we had our daughter we made a promise to each other to quit this once and for all, as we were worried it would harm her health, and she might see from us and start smoking when she gets older. After I say this book somewhere online, we made that promise and it has worked so far. There are a lot of great tips and I recommended to everyone who is trying to quit with all my heart.

Joel Thompson

Hey all, I'm writing this review because I found this book very helpful and want to motivate anyone who is trying to quit smoking. I have been smoking for 15 years and haven't given it a second thought, but after I saw my dad get lung cancer because he was a big smoker and was smoking for even longer I was terrified and said that's it, I'm done with this s**t! I started looking for help online and found this book. I said what the heck let's give it a go and see what it says. It changed my whole perspective on how to look at this problem and, while it was very hard to give up such a habit, I gave it my best to follow what the book said, and I have to say, amen to that book. It's going great and whenever I get a sudden urge to light one up I go ahead and read the whole thing again. It definitely helps to remember every word in there and I constantly remind myself of the damage smoking can do, and how it ruins lives.

Justin Conway

Hi, my name is Justin and i'm 57 years old. I gotta say i'm not as satisfied with finishing the book as i thought i would be. I've been smoking for 30 years and it's definitely catching up to me over the years. I tried to quit a couple of times, but no luck. I thought this ebook might help but i have to say it didn't really make me give it up. The book is not all that bad it just couldn't motivate me hard enough to do it. Maybe it's me, i don't know, but i do hope some of you get what you asked for. I can definitely say one thing though, it's easier to quit while you are younger than older. Maybe i'm at an age where i just don't care enough but that's just me. That's why i won't give a too low rating on the book, because i hope it's not all its fault.

Barbara McBee

I've been a smoker for maybe 30+ years now, and I've been wanting to quit since after the first year of smoking. But whenever I tried I realized how hard it is to quit this habit. People think of smoking as a way to relieve stress, so whenever I quit there is always some stressful thing to make me want to smoke again, and it works. I tried everything, nicotine patches, the nicotine gum, even vapes, and e-cigarettes, but everything was a joke and had almost zero effect. So you can understand my skepticism of how a book can help someone quit. Boy, was I wrong. After reading this ebook I realized that I had been looking at this quitting thing all wrong. The whole idea is to understand and get ready mentally for quitting, not physically. I have it a shot, read it and never looked back. Thanks to this masterpiece I think I can start my life again.

Anna Cobb

To be honest, I didn't really want to quit smoking, no one ever does right. Well most people do, they just can't. I didn't even want to, I liked it and it kept me stress-free. But after 16 years of smoking, I started to cough more than usual. I thought it was nothing and it would pass but it didn't. So, naturally, I went to see a doctor, did all the tests and I find out my lungs were pretty damaged. I did say I know people who smoke twice as much as me but they don't have this problem. The doc said it's different for everyone. After that, I got so scared and wanted to make a change for the better. It was pretty hard, I found this book, read it and it pushed me even more to quit. It wasn't the book alone, I was in support groups, had a lot of motivation from family and friends, but the book was definitely what pushed me and helped me get the right mindset to pursue this goal. Guys, please don't give up on this, it's so important for your health. Get the book and make the choice to quit. You can't expect a book to just cure you, but it will definitely make you understand why you need to quit and man up.
Quit Smoking Today With The Popular Quit Smoking Magic Program (Risk Free - 60 Days)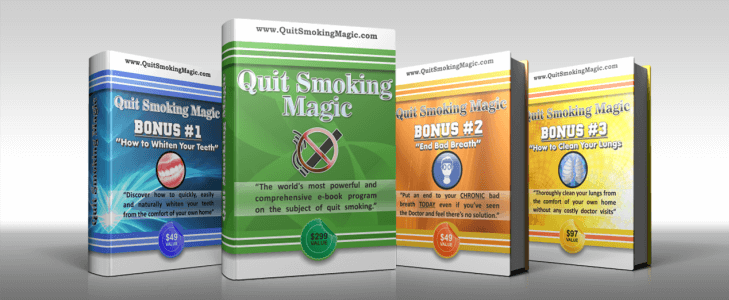 Copyright © QuitSmokingMagic.com. All Rights Reserved.